Posted by London Kelley on Oct 23rd 2023
Estimated Reading Time: 3 minutes
The Department of Cannabis Control and state laws require all cannabis and hemp products on the market be tested to ensure consumer safety.
This standardization of testing helps regulate cannabis products and ensures brands and companies uphold cannabis industry standards and provide transparency to consumers.
What Is A COA?
A COA or Certificate of Analysis is a verified document that provides details about cannabis products, including the cannabinoid breakdown and testing results for pesticides, microbes, heavy metals, and other contaminants to ensure safety and transparency.
The purpose of a COA is to protect public health, keep dangerous products off the market, and bring standardization to the cannabis industry.
Testing protocols and regulations hold the product manufacturers accountable and validate that the information they provide is accurate.
This is especially important for any substances you put into your body and gives you, the consumer, protection and confidence that the product you are purchasing has been tested and deemed safe.
When you purchase a hemp or cannabis product, the seller or brand is required to have a COA on file and make the lab test results available to you.
A COA also doubles as a verification document proving a product's authenticity. What is on the label reflects what is in the bottle or box. It certifies purity and potency and is stamped and signed by the testing laboratory.

Laboratory Testing: What Does A COA Cover?
A certificate of analysis will show a detailed breakdown of what is inside the product, from the ingredients and cannabinoid profile to THC levels. It will also show if there are any contaminants and residual solvents.
All hemp or cannabis products undergo an in-depth analysis to detect pesticides, microbiological contaminants, mycotoxins, heavy metals, moisture content, and residual solvents or foreign materials.
These laboratory testing protocols regulate the products on the market and will determine if the batch passes or fails, keeping contaminated and potentially dangerous products off the shelves. These quality assurance measures ensure cannabis growers and product manufacturers deliver safe and reliable products to their customers.
The COA is also an identification document that provides information on the testing labs and tracking of where the product came from.
What Is an ISO Accredited Testing Lab?
When you view your lab test for your cannabinoid product, you may notice a stamp on the document that says ISO accredited or ISO/IEC 17025.
ISO accreditation is a measure of quality and ensures that you get accurate and reliable information about your hemp or cannabis product.
ISO accredited labs are permitted by the state Cannabis Management and Control Department. This means that the lab tests were performed by a third-party testing laboratory certified by the state and audited to ensure all staff and machinery meet the regulatory standards to consistently perform required testing to protect public health and safety.
ISO accredited lab tests also ensure the tests and results have not been tampered with, verifying that the results are accurate and that the machinery and procedures are up to spec.
Reading Your Hemp or Cannabis Lab Results
We recommend reading the COAs for the products you want to purchase. This is a great way to verify that the brand or company is transparent and committed to providing quality products. Locating your COA should be easy and straightforward.
At The StandardBM, you can locate the COA for all products by clicking the COA button in the menu bar on our website. Click here to view all the COAs for our products.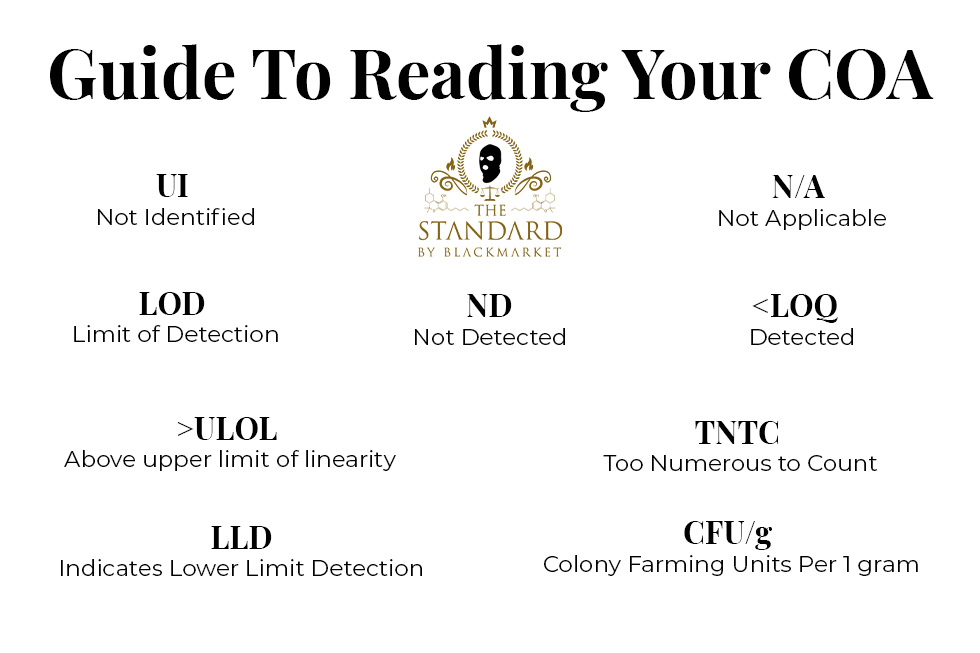 Guide To Reading Your COA
When you view your lab results, you will see that each section has a comprehensive breakdown that shows what the product has been tested for and what the results were.
When you review your COA for The Standard BM products, you will see a full cannabinoid analysis and an analysis for heavy metal detection, microbial, mycotoxin, pesticide screening, residual solvent, and foreign material inspection.
At the bottom of the testing document, you will also find a legend that explains what each term means for each panel. Here is a preview of terms you may find on a COA.
UI - Not Identified
ND - Not Detected
N/A - Not Applicable
LOD - Limit of Detection
LOQ - Limit of Quantification
<LOQ - Detected
>ULOL - Above upper limit of linearity
CFU/g Colony Farming Units Per 1 gram
TNTC - Too Numerous to Count
LLD - Indicates Lower Limit Detection
These are terms our third-party testing labs utilize. Other COAs may use different terminology, so always look for the guide when reviewing your lab results for any hemp or cannabis product.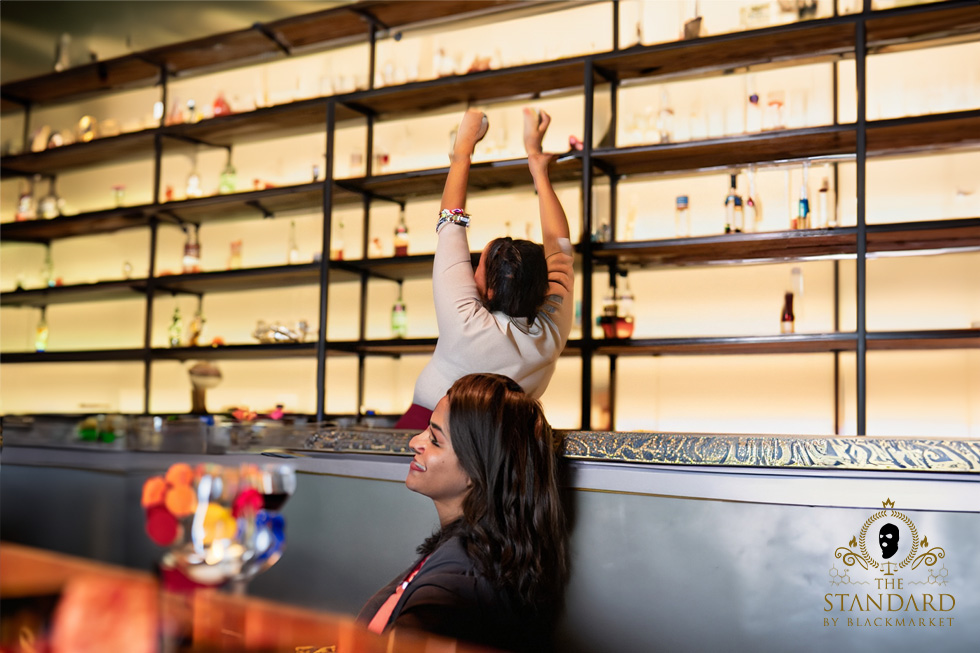 Top Shelf Hemp-Basedased Derived THC Products By The Standard BM
All Standard BM products are third-party tested at ISO 17025 accredited laboratories, verifying the quality, purity, and potency of our hemp-based THC products.
We go the extra mile with our COAs to perform further in-depth testing to provide a higher standard of transparency.
We pride ourselves on delivering a true-to-strain experience derived from the highest quality plant extracts and terpenes. Our scientific research-based approach and commitment to quality come first with every concentrate and product we create. We can't wait for you to experience "The Standard."